---
F. W. Hackländer - a german novelist
---
Friedrich Wilhelm Hackländer is a german novelist of the 19th century. Born the November 1st, 1816 in Burtscheid near Aachen, he lost his parents as a young boy. His father was the teacher of the small school in Burtscheid. So the relatives were responsible for him, but could not afford much money for education. At the age of 14 he had to start an apprenticeship in a small store, but he did'nt like it. He was dreaming about being soldier and and entered the prussian artillery in the age of 16. In 1835 he left the army, disappionted because service was neither exciting nor a possibility to make a career as an officer.
In 1840 his first book was published by the famous publishing house Cotta in Stuttgart: « The soldier in time of peace. » (Das Soldatenleben im Frieden). His humourous stories were very successful and Hackländer got one of the most popular authors in Germany. He wrote many novels, wrote for the stage and about his travels. Egypt and Jerusalem 1842, Spain 1855, London 1851, Italy, Hungary, Russia ... many intersting places! As the secretary of the prince of Württemberg and later director of the royal buildings and gardens in Stuttgart he had the possibilty to look into very different social groups during his life. The novel « Stories without a name » (Namenlose Geschichten) is a good example ...

« Behind the counter » (Handel und Wandel) is based on his apprenticeship in a store, it's not a good time for the protagonist of the book ;-) One of the topics are the bad social problems, poverty and even "slavery" in europe: One of his most famous novels is called « Clara, or Slavelife in Europe » (Europäisches Sklavenleben)

Juli 6th, 1877 Hackländer dies in his house in Leoni/Bavaria.
Here you can find a short list of translations. Cambridge university press published Hackländer with comments and vocabulary in English.
---
Enchanting and Enchanted
Fairy-tales translated by Mrs. A. L. Wister
J. B. Lippincott, Philadelphia 1870. 226 p. Illustrated.
online edition ...
Contents:

The Elfin Tree
The Dwarfs' Nest
The Princess Morgana
Castle Silence
The Fairy Tankard
---
Behind the counter Handel und Wandel...
from the German by Mary Howitt (1799-1888)
Leipzig. Bernhard Tauchnitz. London. Sampson Low, Son, and Marston. 1868. 367 p.
---
The Countess of St. Alban; or, Lost and Found. Namenlose Geschichten...
Translated by Franz Demmler
London, Thomas Hodgson 1854. 348 p.
London, Weldon & Co. 1884.
---
The Old Monastery. Namenlose Geschichten...
By the author of "Clara." From the original by Lady Wallace.
Wallace (Lady Maxwell) The Old Monastery. 1857.
---
Katherine; and the Moment of Fortune. Eugen Stillfried... Der Augenblick des Glücks...
Translated by Lady Wallace
Katherine. Katherine, etc. 1857.
---
Clara: or, Slave Life in Europe Europäisches Sklavenleben...
London, R. Bentley 1856. With a preface by Sir A. Alison.
London, S. Tinsley & Co.: 1880: European Slave life. Translated from the German by E. Woltmann.

---
Der geheime Agent. Lustspiel in fünf Aufzügen.
Cambridge University Press 1894, 1895.
Edited with an introduction an notes by E. L. Milner-Barry. 176 p.
Hachette & Co.: London, 1895. New and revised edition. Edited by John Francis Davis.

---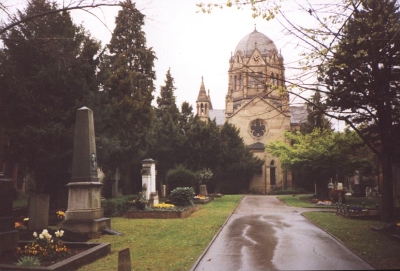 Hackländers grave (on the left) Stuttgart Pragfriedhof (2002)